SmartSensor Labs designs & develops solutions using the best in class technologies - wireless protocol, semiconductor vendors & cloud based platform & hosting infrastructure.
Building Automation & Energy Management
We evaluate and advise the best in class protocols for your products & solutions. We have expertise in developing Lonworks, EnOcean, Wireless M Bus, ModBus, ZigBee, DALI and BACnet based solutions.

Each protocol has different characteristics, we work with you and ensure the most suitable is implemented in your solution.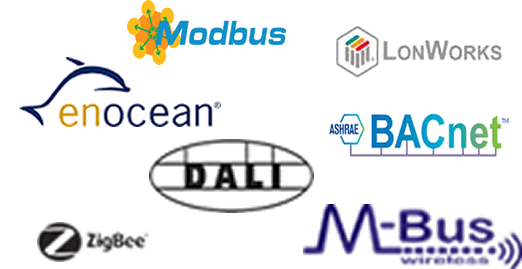 What is Bluetooth Low Energy?
Bluetooth low energy (LE) (also called Bluetooth Smart or Version 4.0+ of the Bluetooth specification) is the power and application friendly version of Bluetooth that was built for the Internet of Things (IoT). The power-efficiency of Bluetooth with low energy functionality makes it perfect for devices that run for long periods on power sources such as coin cell batteries or energy-harvesting.

SmartSensor Labs are members of the Bluetooth Special Interest Group.
VISIT THE BLUETOOTH SIG
What is the LoRa Alliance?
LoRa® Alliance is an open, non-profit association of members that believe the internet of things era is now. The mission to standardize Low Power Wide Area Networks (LPWAN) being deployed around the world to enable Internet of Things (IoT), machine-to-machine (M2M), and smart city, and industrial applications. The Alliance members will collaborate to drive the global success of the LoRa protocol (LoRaWAN), by sharing knowledge and experience to guarantee interoperability between operators in one open global standard.

SmartSensor Labs are members of the LoRa Alliance.
VISIT THE ALLIANCE
Lo

ng

Ra

nge Internet of Things (LoRa)
Long Range Wide Area Network (LoRaWAN) is a low power wireless networking protocol designed for low-cost secure two-way communication in the IoT. LoRaWANs use of sub-GHz ISM bands also means the network can penetrate the core of large structures and subsurface deployments within a range of 20km.

The technology utilized in a LoRaWAN network is designed to connect low-cost, battery-operated sensors over long distances in harsh environments that were previously too challenging or cost prohibitive to connect. With its unique penetration capability, a LoRa gateway deployed on a building or tower can connect to sensors more than 10 miles away or to water meters deployed underground or in basements. The LoRaWAN protocol offers unique and unequaled benefits in terms of bi-directionality, security, mobility and accurate localization that are not addressed by other LPWAN technologies. These benefits will enable the diverse use cases and business models in deployments of LPWAN IoT networks globally.